---
---
THE PROBLEM
It's easy to start a new 8-bar loop in Ableton, but when it's time to build out a complete track, we all get stuck.
If you don't have some kind of a plan for turning your ideas into real songs, you can waste months tweaking sounds, adjusting the mix, and never finishing the damn thing.
---
BEING STUCK SUCKS
I know how frustrating and depressing it feels to have a computer full of unfinished tracks. Sometimes you want to delete everything and start over.
And the worst part is the jealousy… everybody else seems to be cranking out new beats in their sleep, why can't I? What do they know that I don't know? WTF!!!
---
THE SOLUTION
After making tracks for 20 years on hardware samplers, sequencers and synths, I found a way out. You don't have to fight against the timeline like in all the other DAWs.
Escape the 8-Bar Loop gives you a simple process to turn your 8bar loops into full tracks -- complete with the peaks, drops, transitions and CLIMAX that makes people want to hear it again and again. And we do it all in Session View.
---
---
WHAT MAKES THIS DIFFERENT?
NO TIMELINE EDITING: in this course we build tracks in Session View, where Ableton is at its best.
IMPROVISATION: this means you compose by feel, experimenting to see what works, and capturing it when it does... not composing visually by counting blocks and bars and minutes and seconds.
ORIGINALITY: you learn to develop your own ideas to the fullest -- not copy someone else's template in the timeline.
LIVE PERFORMANCE: this course is perfect for building a live set where you can express yourself differently every time -- not just triggering the same boring stereo mix and standing there while it plays.
SESSION LESSONS™: You learn by doing it in a series of hands-on guided Ableton Projects -- not watching a bunch of videos. It's a completely new kind of tutorial... and they WORK!
---
THE RESULT
Let me paint the picture , here's what happens after you escape the 8-Bar Loop...
---
Instead of boring tracks that go on forever, you can be happily building tracks that lead directly to an EPIC CLIMAX.
---
Instead of feeling your friends get uncomfortable and ask you, "when is it gonna drop?", they'll make you rewind it to hear the drop again. And again.
---
Instead of staring blankly a computer full of unfinished projects, you'll be taking a folder of your own new tracks to drop at a DJ gig!
---
And the most important thing -- instead of fighting against the timeline doing a million copy & paste edits on your song structure, you'll be able to make amazing tracks that buildup, peak and DROP the way you've been dreaming.
---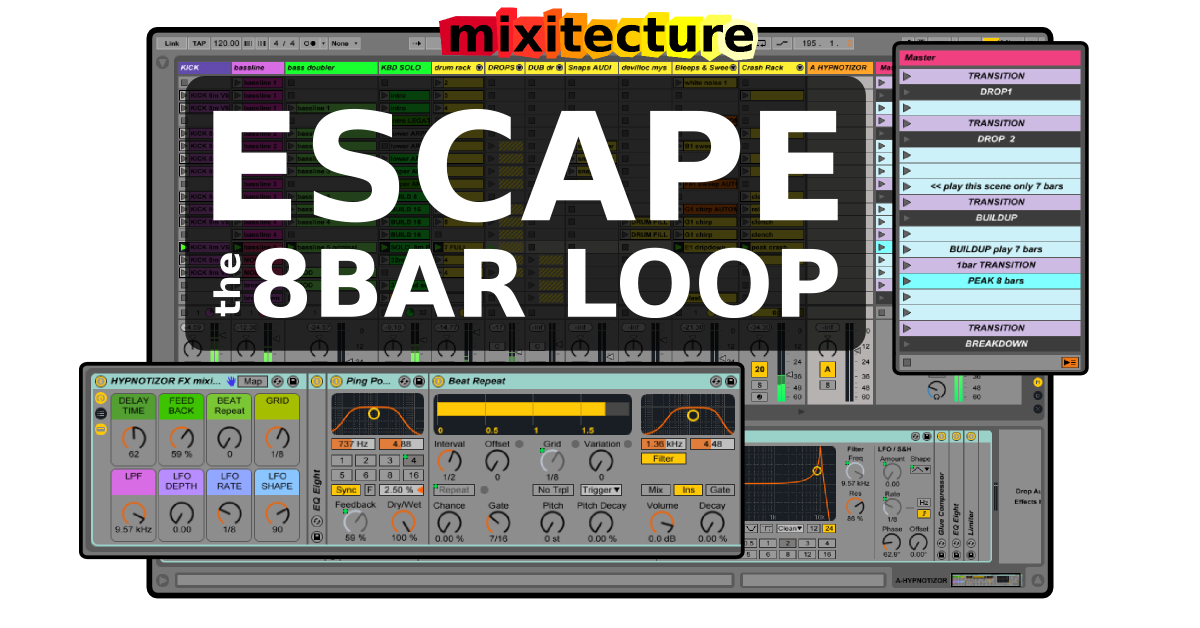 Sound like fun? Stop getting pissed off and deleting everything.
Join Escape the 8-Bar Loop and start bringing the music out of your head, into the speakers.
---
TESTIMONIALS
---
HOW TO GET STARTED
Checkout using the secure payment portal below.
Choose whether you would like to pay at once, or rent to own for $25 per month.
You'll get instant access to download the first Session Lesson™ from Module1.