---
MAKE YOUR MIXES SHINE

Want some help to make your mixes come out sounding big, wide, Loud, and completely slappin'?
You need to export a lot of mixes in order to get good at this.
But you don't need to pay for mastering on them, and you don't need to strap a VST master channel plugin on your session either.
You can do it yourself with native Ableton audio effects, IF you know the basics of mastering.
And that's what you learn in this hands-on lesson.
Get the secret weapon to make your tracks sound world-class... even if you're just exporting a test mix at the end of a session.
I've been making tracks for 20 years, and exporting mixes after every session is the single best way to get better at it.
Grab this lesson and learn how to make the best sounding tracks you can.
HOW THIS WILL HELP YOU
Raise your mix level to commercial loudness
Make your test mixes stand up to pro tracks
Give the low end some thump
Brighten up the highs
Give you the right compressor & Limiter settings so you don't have to guess
Explain the mastering process with hands-on exercises you can actually DO
Hear your new tracks come out sounding big, wide and LOUD
You will be AMAZED at how much better your tracks sound after this!
---
TESTIMONIALS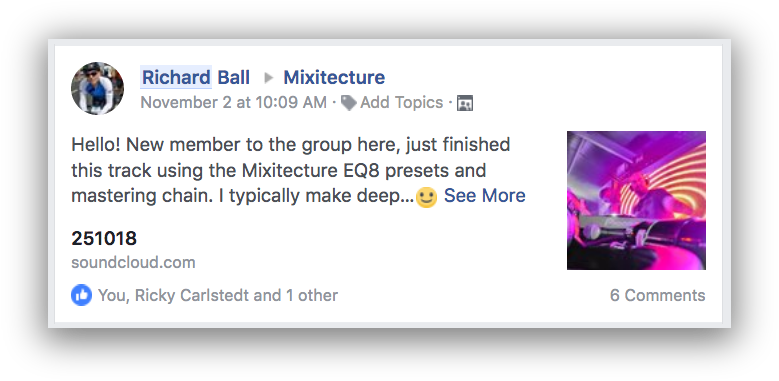 ---
IT'S COMPLETELY UNIQUE

Guided Session Lessons are the best way to learn Ableton production techniques, because they give you real audio engineering plus creative exercises to use it, right inside the program.
Here's what you get with this one:
An Ableton Live Pack for Live9.7 (118 MB .alp)


Voice-guide audio instructions


Specific techniques for each tool in the chain, with automated examples and practice exercises where YOU do it.


A macro-mapped Ableton FX Rack to drop on all your sessions


The "Stereo Export Checklist" for creating your pre-master audio file


BONUS: you learn valuable music production skills that apply to ALL audio engineering equipment, from Ableton to other DAWs and even on analog hardware.
Access to the private mixitecture facebook group where you can post your mixes, get feedback, and hear what other students are doing.

---
REQUIREMENTS
You need Ableton Live9 or Live10 to do this Project. You won't be able to open it with Live8 or anything earlier
You need a basic understanding of how to use Ableton, for example launching scenes and tracks in Session View, and using macros in the Ableton FX racks
A MIDI controller that has 8 knobs is helpful, but not necessary
For listening, all you need is a pair of headphones. Studio monitors or subwoofers are not necessary
The Activities take less than one hour to do. After that you should expect to spend several hours practicing what you learn, on your own music, to achieve best results.
Key commands are for Mac, lessons work on both PC and OSX.
Instructions for download and installation are included in each lesson. You need to be familiar with downloading, saving and backing up Ableton Projects on your music computer.
---
If you buy this lesson and for some reason it does not make your tracks sound better, just let me know and I will help you get it working. You get personal 1-on-1 support if you need it.
---
WHAT TO DO NEXT

Checkout using the secure checkout form below.
Choose one payment or rent-to-own for $25 per month.
Choose credit card or Paypal and complete the transaction
You'll get instant access to download the Live Pack, with installation instructions to get started right away!